On the trail of Talhas, by Raymond Reynolds
In the Portuguese lexicon the word talha has varied definitions, which is another conversation that would need the eponymous wine to help and deviate too far off message.
Actually, it's about wine made in clay pots, an ancient tradition at the heart of Alentejo region.
In 2019 I was blown away by XXVI Talhas Mestre Daniel Branco Lote X recommended by the genial Leopoldo Calhau at his fantastic restaurant in Lisboa – Taberna do Calhau.
The idea was born and later the journey began……
T'was a sunny morning in early March 2022 and we set off south across the plain from Évora towards Viana do Alentejo. Viana sits on the edge of a range of low hills that form a natural border between the northern and southern Alentejo plains. Across theses hills, the road from Viana to Vila Alva winds its way through magical cork forests, olive groves, and small vineyards providing glimpses of the wide plains beyond. You feel this ancient landscape has special calm, balance and beautiful sustainability to it.
In Vila Alva, Ricardo Santos (Local, winemaker and founder of the XXVI Talhas project) met us at the local café where we downed milky coffee and sweet chick pea pasties. This was both fuel to heave open the huge wooden doors of the old Mestre Daniel barn and ballast to taste - taberna style - the extraordinary "vinhos de talha" that the XXVI Talhas winery create.
The winery needs describing - high roof barn, Talhas around the edges, earth floor, whitewashed walls, trestle table in the middle, stools, ladders, long paddles, a pump, a few hoses, huge glass fronted antique cupboard of varied homeware, all spotless. We were in a special venerable atmosphere.
Tasting finished (not hurried) we went in search of the vineyards.
They pop up unexpectedly amidst ancient olive groves and cork trees. A patchwork. Bush vines in the main, many seemingly "abandoned" but more likely left to themselves to offer up precious grapes ready for filling Talhas with.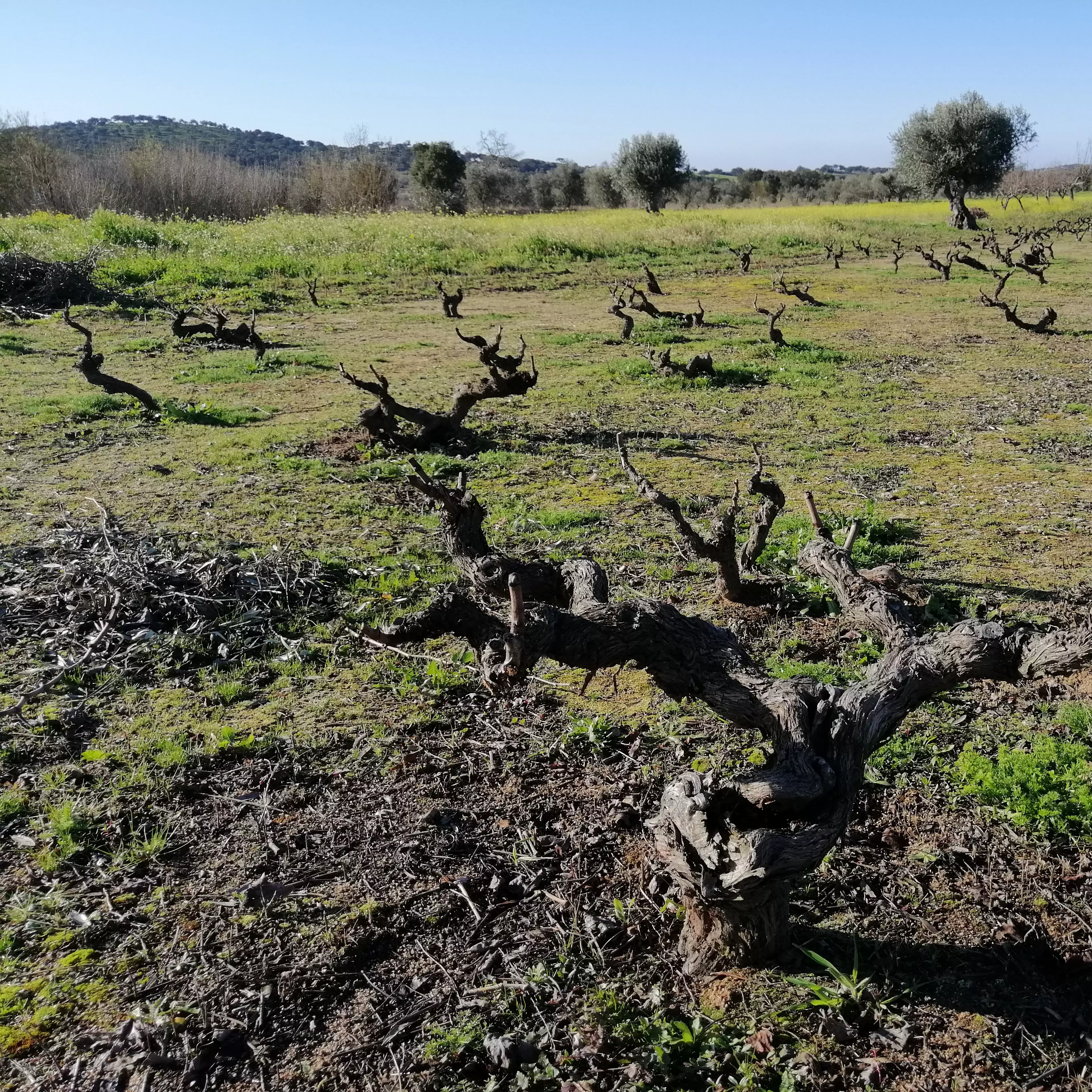 As if on cue, Ricardo's dad also pops out of the vegetation equipped with pruning scissors and skitty mongrel. He beckoned us to admire his work and vineyard, adding to the ancestorial narrative around the area. As we departed he said he would expect to see us again at the St Martin's day when in Vila Alva growers tap their Talhas and rejoice the new wines in raucous reverie. Will you be there?
The memorable day was capped by a hearty lunch and bonhomie at the Café do Meco, in Vila Ruiva. We then had to look for a shady spot for the traditional sesta (afternoon kip)!
Até já,
Over to you!
XXVI Talhas (click through for more info on each wine)