by Rob Haynes
Recently, I was lucky enough to head over to Portugal to spend time with Niepoort. Not only was this my first time visiting Niepoort, but it was my first time visiting Portugal! Having worked for Raymond Reynolds Ltd for nearly a year now, it was about time I experienced our specialism first hand.
It is still a tough pill to swallow when arriving at Porto airport, I have to queue in the 'all other passports' line, but upon stepping out of the airport at half 8 in the evening to 35°C I had soon left politics on the runway and was looking forward to exploring this country for the first time.
After choosing the only bar in Porto that didn't have Super Bock (or any beer in fact!!) the disappointment soon evaporated the next morning as I set off to check out Niepoort's offices, bottling line and Port lodge in Villa Nova de Gaia.
Crossing one of the 6 bridges over the Douro River from Porto to Gaia offers amazing views whichever way you turn. Both cities sprawl up the hillsides of the river with their mix of terracotta roofs, old churches and winding streets. It's down one such street that you come across Niepoort's office and bottling facility. Underneath a quiet and manicured central courtyard is the main facility. There was a hive of activity going on; the Drink Me wines were being bottled, pallets were being prepared for customer shipments and the Port blending lab were busy quality checking various barrels of delicious Port!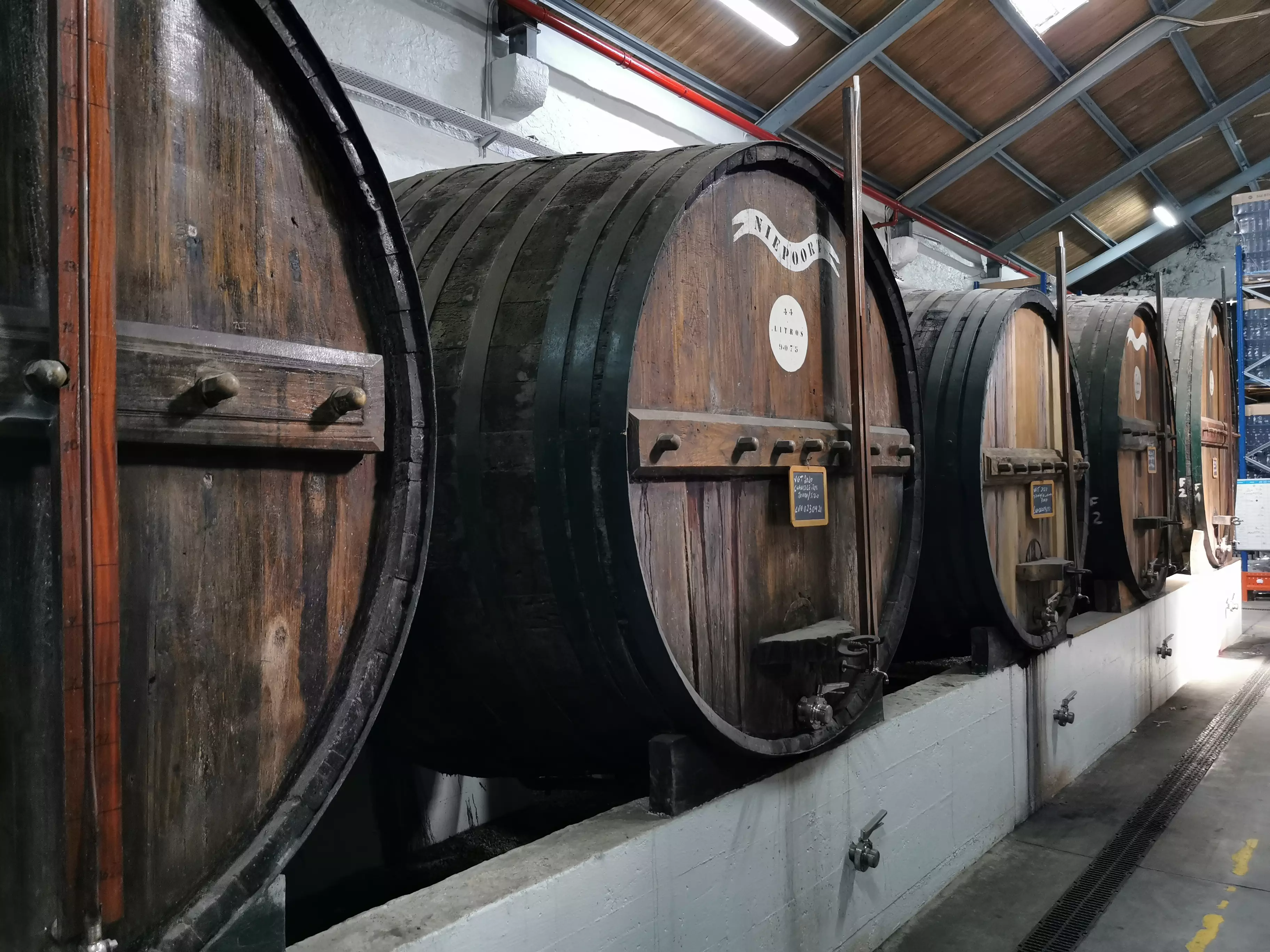 From here we headed round the corner to Niepoort's lodge at Serpa Pinto. To quote old episodes of MTV Cribs, 'this is where the magic happens!'. An Aladdin's Cave of aging Port barrels awaited, and following a snoop round and a look through Niepoort's history I was treated to a wonderful tasting that re-confirmed, at least in my mind, just how good Niepoort's Ports really are.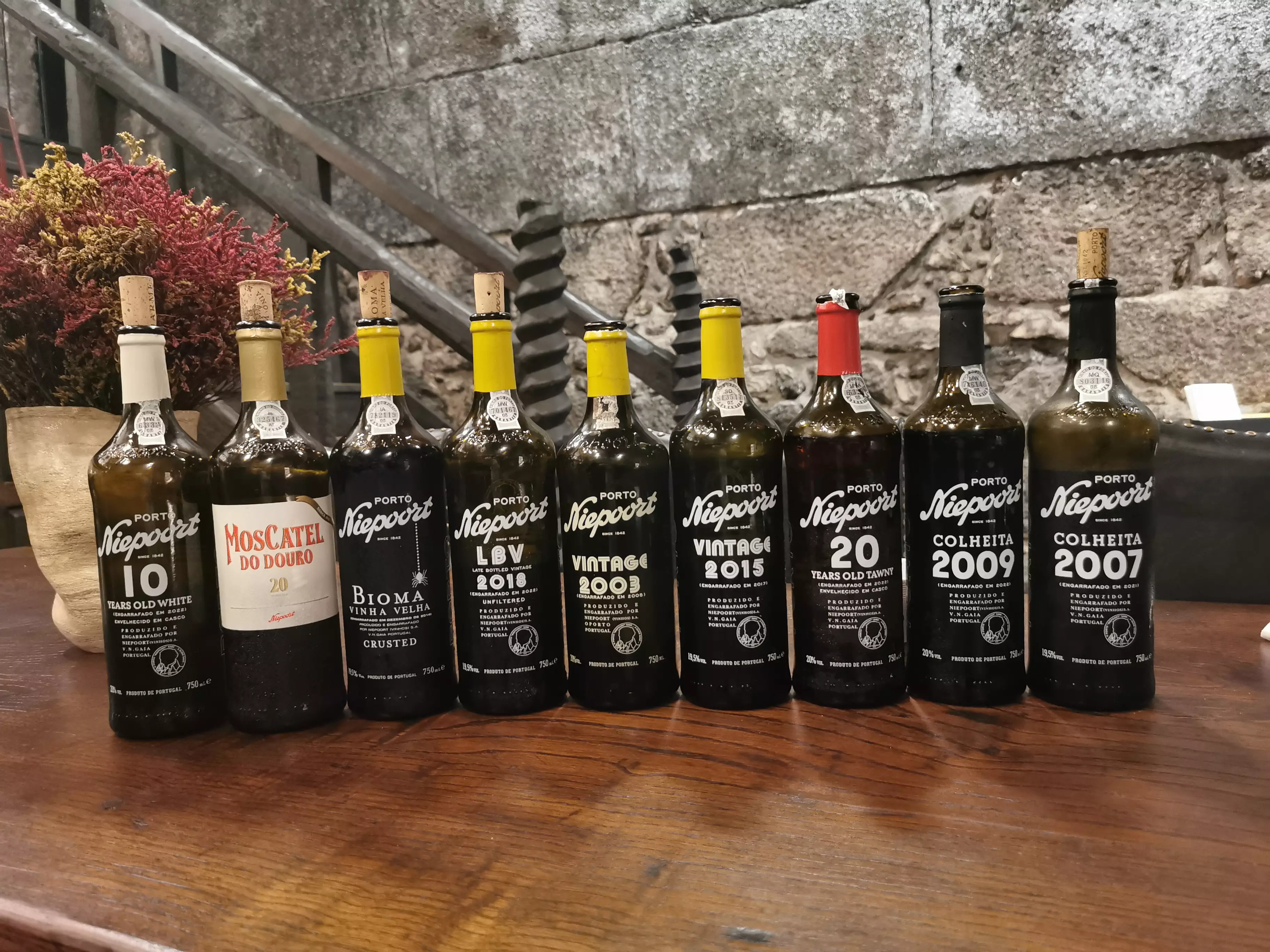 A couple of highlights:
LBV 2018 – this will be the next vintage, and if you thought the 2017 would be tough to beat, just wait until you try this! Amazing depth and concentration. Expressive on the nose with elegance and structure on the palate.
Bioma Crusted – Crusted is an often overlook category, but is also one of the best value wines. A blend of leftover vintage port from two or three years, from Niepoort's 100-year-old Bioma vineyard, this wine is mind-blowing! Dark, brooding berries with a core of acidity and smooth tannins and lovely spicy notes, this is not to be missed!
20-Year-Old Tawny – Beautiful colour with notes of prunes, dates, figs and wonderful spice and herbal aromas. Delicate, but complex with a long, delicious finish.
After a wonderful seafood lunch (and a couple of glasses of Baga sparkling and Conciso Branco 2018) we made our way to Quinta do Baixo – Niepoort's Bairrada property, about an hour south of Porto. This coastal region is home to Baga, a grape variety that encapsulates Portugal like few others can. They were busy bottling the new vintage of Nat Cool Baga, but that didn't stop us from a having a quick barrel tasting of upcoming Lagar de Baixo 2021 and Poeirinho 2020. Both expressive with bramble fruits and wood spices and the classic sappy herbal note that you get with Baga. Miguel, the assistant winemaker, proclaimed that the 2020 Poeirinho is the best yet!!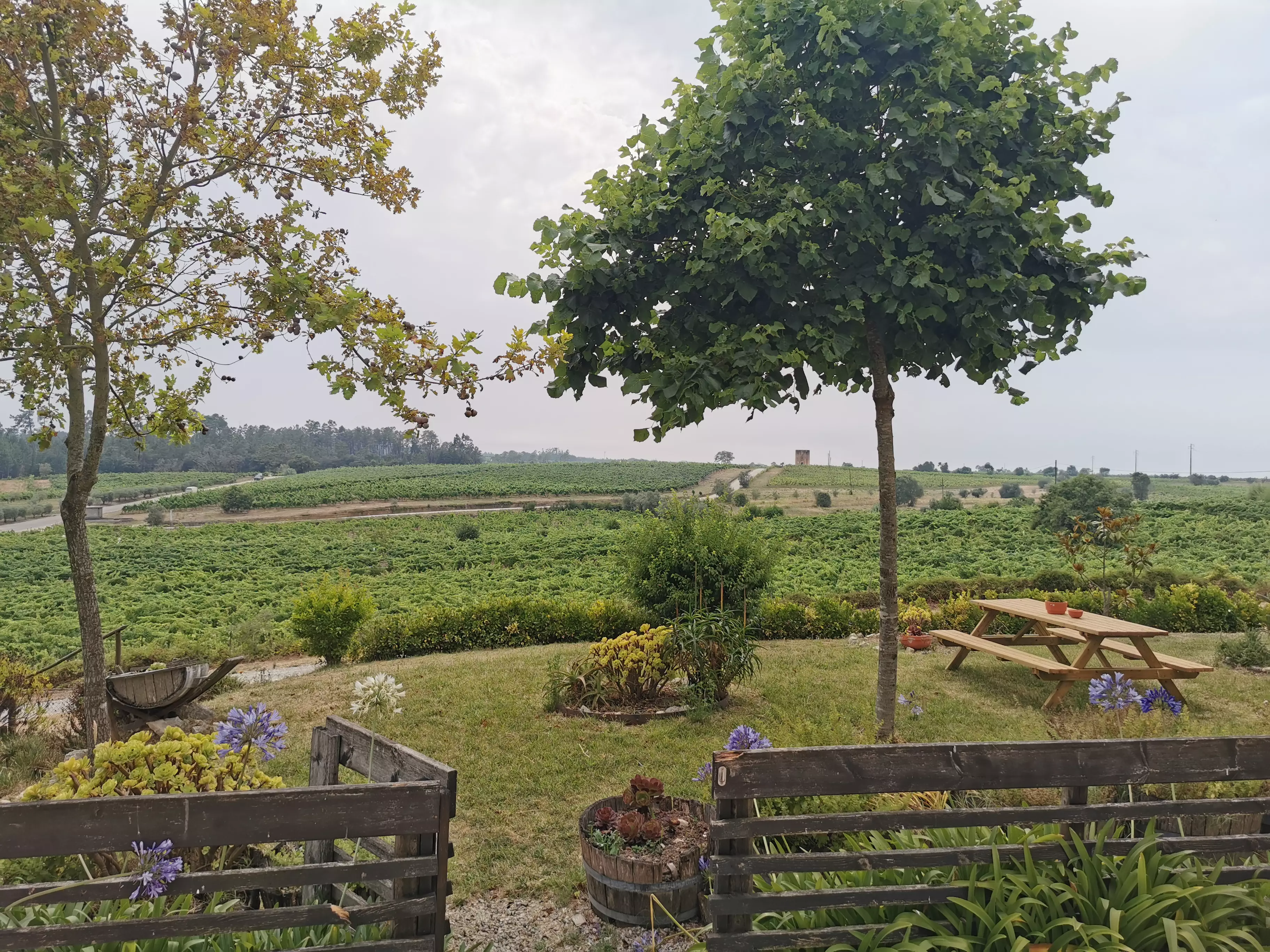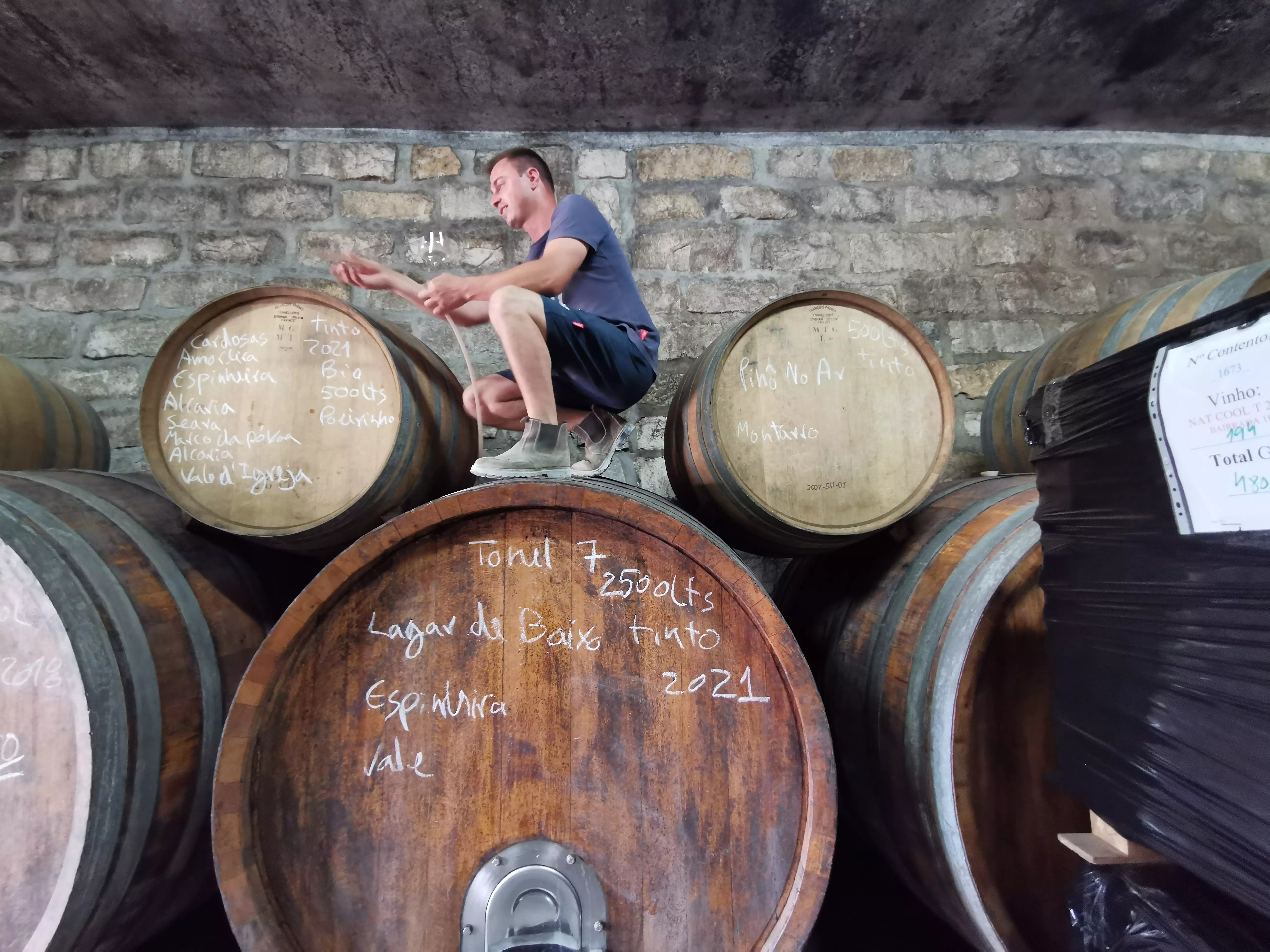 The following day saw us head into the Douro Valley. Having not witnessed it in the flesh before, I was excited to say the least! No picture can do the scenery justice (although I'll try!). How grapes are grown on these steep slopes is challenging enough, but the effort, and in some cases bravery, required to maintain the terraces and vines is staggering. I cannot recommend highly enough a trip here if you've never been before. It is a sight that needs to be seen and it is no surprise that the Douro Valley is also a UNESCO World Heritage site.
Our first stop here was Quinta do Napoles. This is Niepoort's table wine winery. It's also where the inspiration behind Dirk's NiepoortLand range came from! It is built into the hillside of a slope and is a gravity-fed winery. Grapes arrive at the top; they are then fed down into the fermentation tanks. After that the wine is then fed down to the barrel rooms for ageing and then into the bottling line. This means that pumps do not need to be used as gravity does the work. It has been described as 'going down the rabbit hole' in Alice and Wonderland, hence the inspiration for the NiepoortLand range of Ports!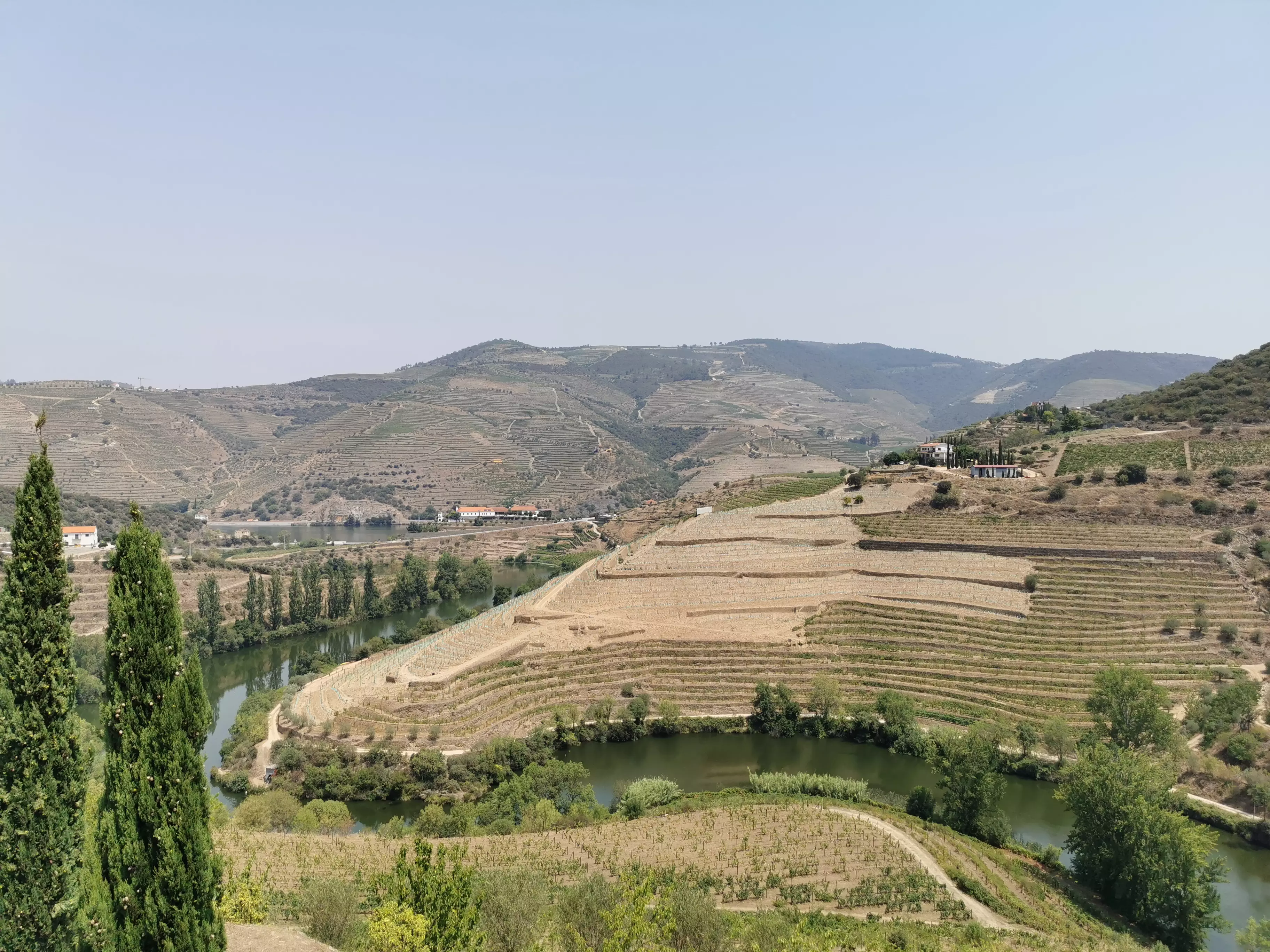 After a delicious lunch with the winery crew and a few glasses of Redoma Reserva Branco we set off to Quinta do Vale de Mendiz which is where all the Niepoort Ports are made. It was all very quiet here, with preparations underway to receive the harvest in a couple of months' time. The granite lagares were looking splendid, having been recently refurbished, and I was treated to a very special tasting.
One table wine is made at Vale de Mendiz, Charme. This is a Burgundy style, light red that is aged in barrel up in the Douro. The light extraction red wine is an early bleed from the port winemaking process. I was lucky enough to taste a couple of barrels that had been earmarked for Charme 2021.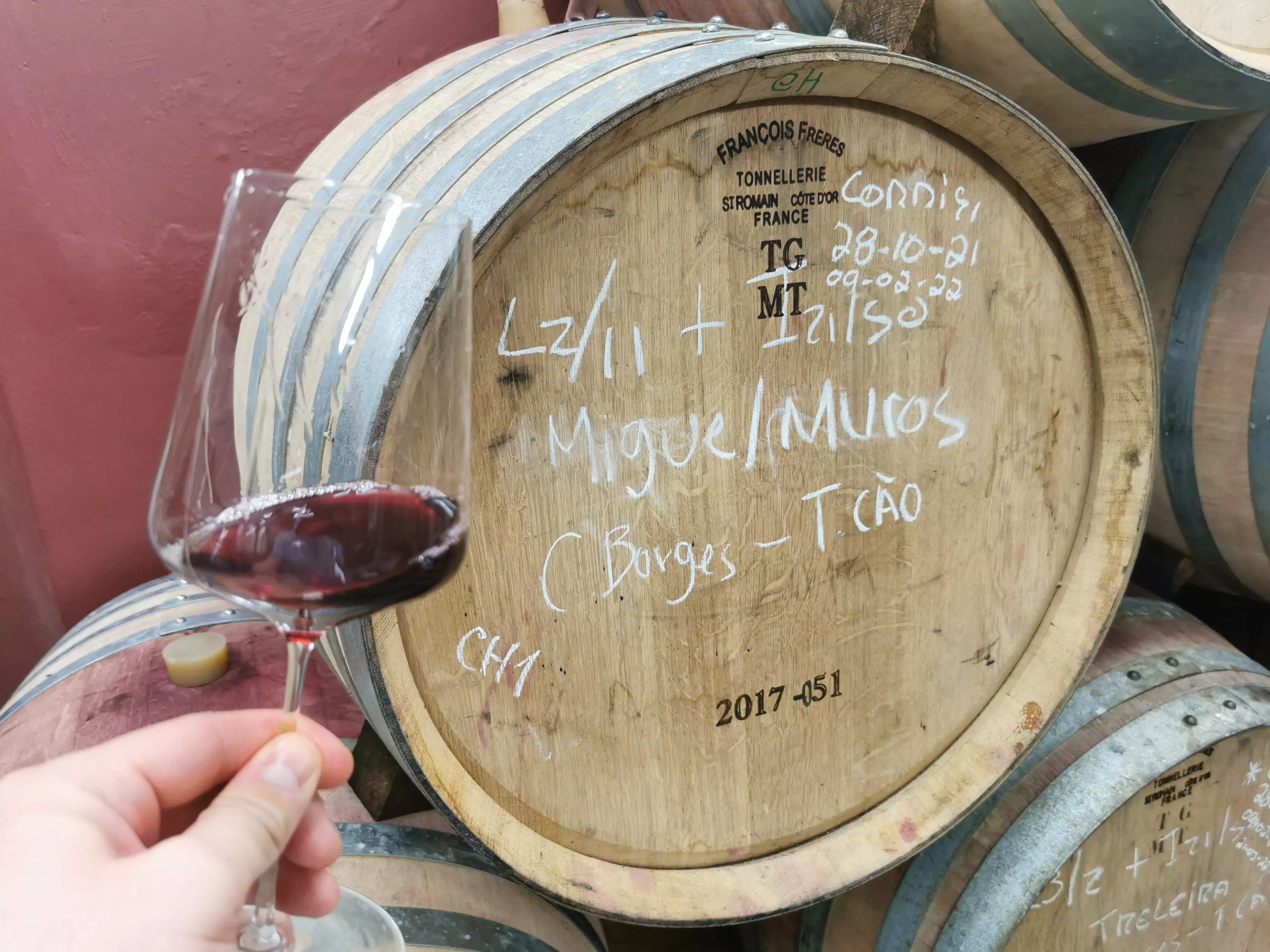 This concludes not only my extensive visit to Niepoort, but also my first trip to Portugal. It is fair to say that neither disappointed! Portugal's food, culture, wine and scenery have made a lasting impression on me and my visit to Niepoort re-confirmed the quality of their wines and operation. It was amazing to meet the people behind the wines and to discover their stories. The wine-scene in Portugal is getting better and better and it is producers like Niepoort that are partly responsible for the increase in quality of Portuguese wine. There is a reason that Portugal was voted as the most exciting wine region amongst independent retailers this year, and it is even more exciting to think that we are just at the beginning!